In-Depth SEO Website Audit
Performing detailed SEO Website Audit is a necessity in most cases when you require to either understand why your project is not growing new or losing top search positions. Busy Fox team will research every major point of search engine optimization regarding your site and provide you with a detailed audit report. You can check SEO Website Audit Prices to calculate and plan your investment budget in quality reporting.
We are an open whitehat search engine optimization agency and to help our customers to understand what this report is, we present a complete example of repotting template below. This is an exact report file you will receive as a customer when requesting an In Depth Website Audit for your project. The below website audit template is an example only, and some information entered may not show the real value of any referring or mentioned websites.
The Audit Report will include several files, which includes:
PDF, In-Depth Audit report
PDF, Technical Website Audit
Excel Files, Website Errors
Our Website SEO Audit Report Template
Let's move to an exciting part and see what your complete audit report would look like.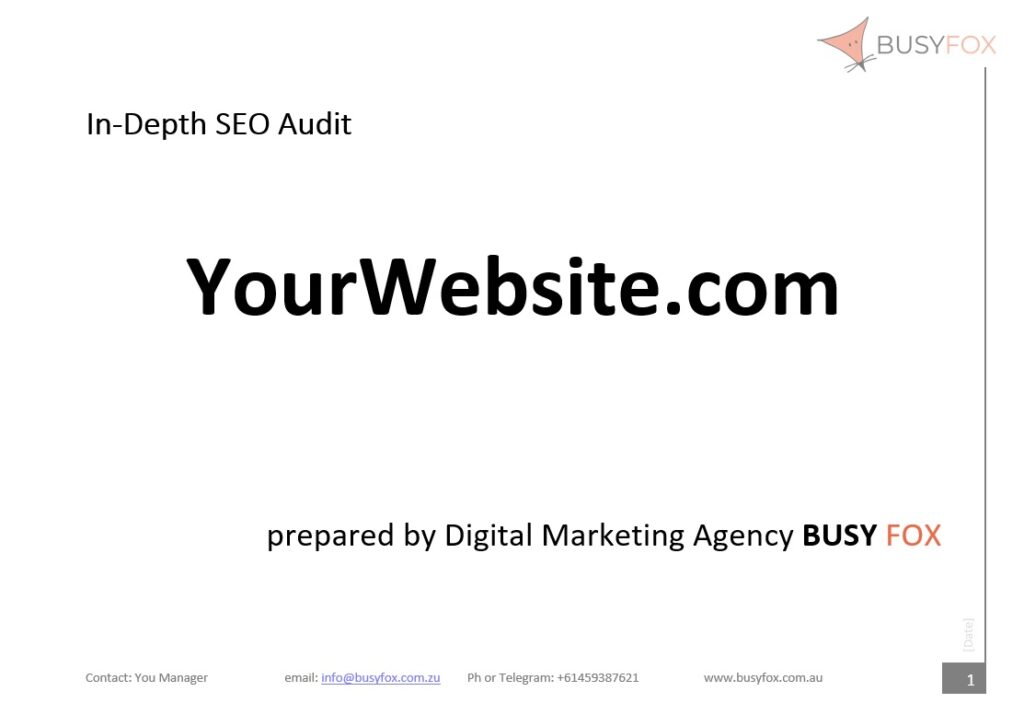 SEO Website Audit Menu
Project Overview

Technical Website Audit Summary

Domain Rating Overview

Backlinks Overview

Anchors Overview

Keywords Overview

SERP Analyse

Top Positions Overview

Top Search Pages

Competitors overview

Content audit and ideas

Meta Tags Audit

Conclusion
Project overview
Your Business Niche
We will research your business niche, to understand your market.
Your Product and Targeted Customer
We will do detailed research on your products and analyze who your potential customers are.
GEO Targeting
In addition, we will research your targeting market and understand whether you should target Local, National, or Internation SEO.
We will analyze your current Audience visitors and Organic traffic.
Traffic Performance

Audience Overview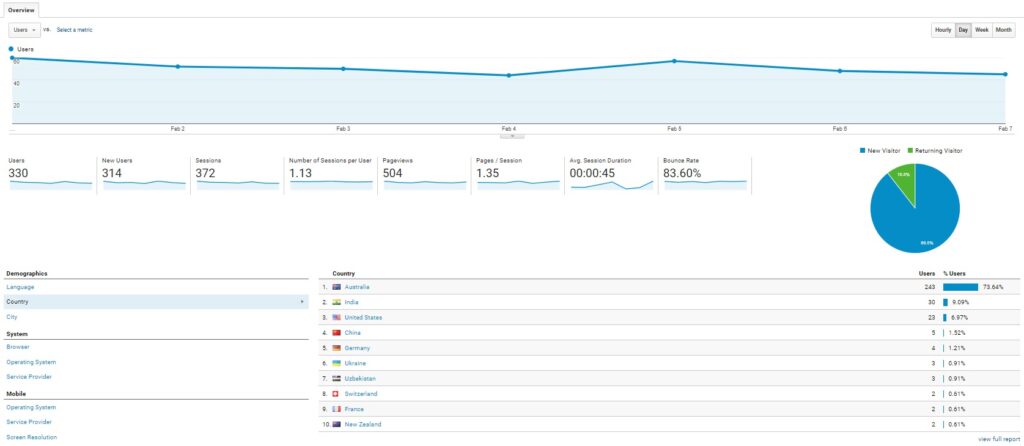 Technical Website Audit Summary
During the Technical website audit, we found it is in acceptable technical health. with a few errors that need to be fixed. Refer to a list of errors that require urgent attention:
Home page has multiple H1 headers
Missing and or Empty Descriptions
Images without ALT Attributes
Refer to the enclosed full Technical Audit file for more detailed information.
Website speed check Mobile and Desktop
Website speed is an important part of any SEO performance, especially when it comes to Mobile website loading speed. We will analyze the speed test and provide you with recommendations on where and what you need to improve.
Website desktop loading time respond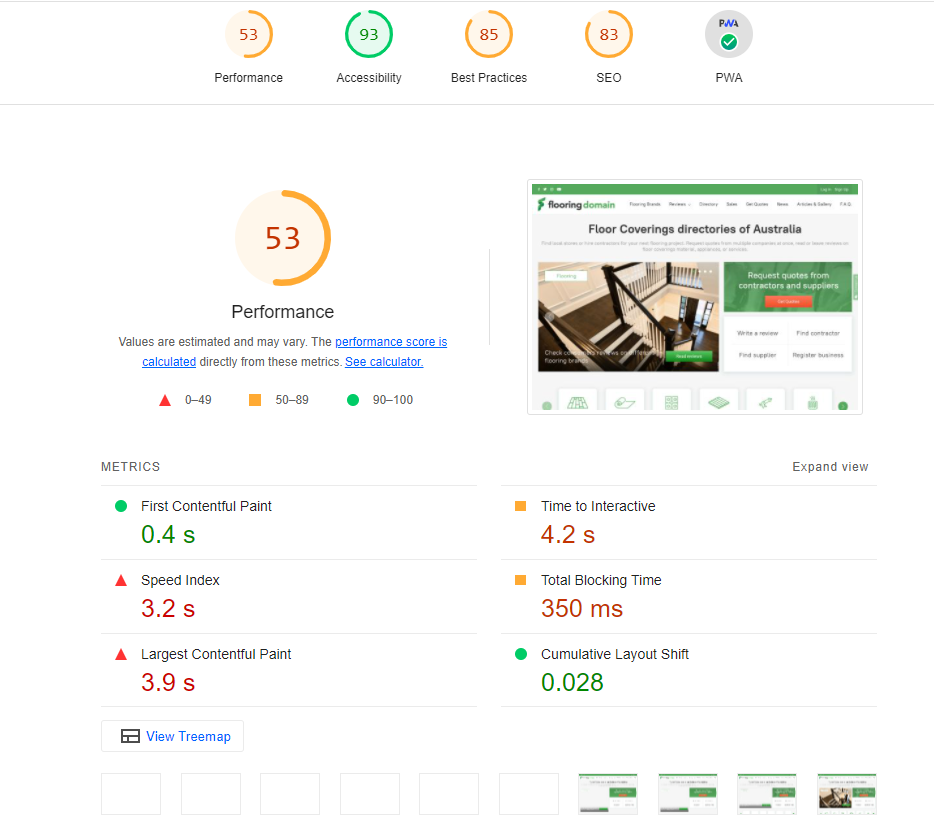 Website mobile loading time respond
Here you will see our speed test comments and recommendations.
Refer to speed test repot file for errors and other detailed reports
GEO Settings
Depending on your geo-targeting, we will conduct a test to check your Google hreflang geolocation and language and or local SEO settings.
Domain Ranking Overview
Our reports include DR aka (Domain Rating) and DA aka (Domain Authority)
Domain Ranking is basically a web trust factor. The higher your website rating on the internet, the more other websites mentioning you and backlinking to your pages the more privilege your project has to be displayed above competitors in SERP
Domain Rating (DR)

Domain Authority (DA)

Backlinks Overview
There is a Total of 337 Donor websites providing backlinks for YOURWEBSITE. The general toxicity of backlink mass is LOW, however referring backlinks include potentially toxic donor websites and or links. Review alerted bad quality backlinks and apply appropriate changes. in some cases bad quality links have to be added to disavow file.
Toxic domains
https://examplebacklinkdomain.com/example
Potentially Toxic
https://examplebacklinkdomain.com/example
https://examplebacklinkdomain.com/example
https://examplebacklinkdomain.com/example
https://examplebacklinkdomain.com/example
https://examplebacklinkdomain.com/example
https://examplebacklinkdomain.com/example
https://examplebacklinkdomain.com/example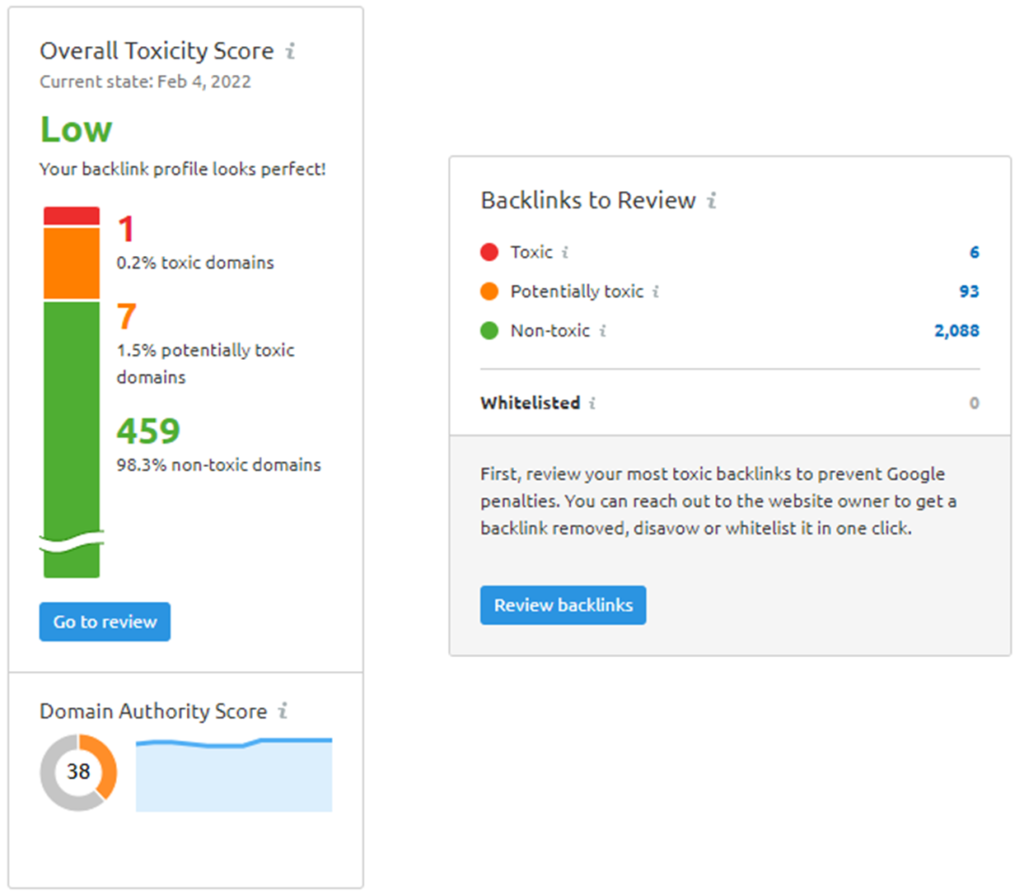 Anchors Overview
Most of the anchors include Brand name, brand-related keywords, and or open links to exam results. This is good for increasing brand power over brand awareness. However, some of your backlinks contain potentially "spammy" anchors.
Avoid using anchor text like: Learn more or Anchor, instead try to accommodate more broad-spectrum anchor texts: Learn more about anchor texts; good anchor texts; anchor basics and tricks.
Things to keep in mind to improve for future anchor strategy. Avoid Anchors keyword stuffing and exact match anchor text. Use keyword-related texts instead.
Refer to the Anchor file for more details.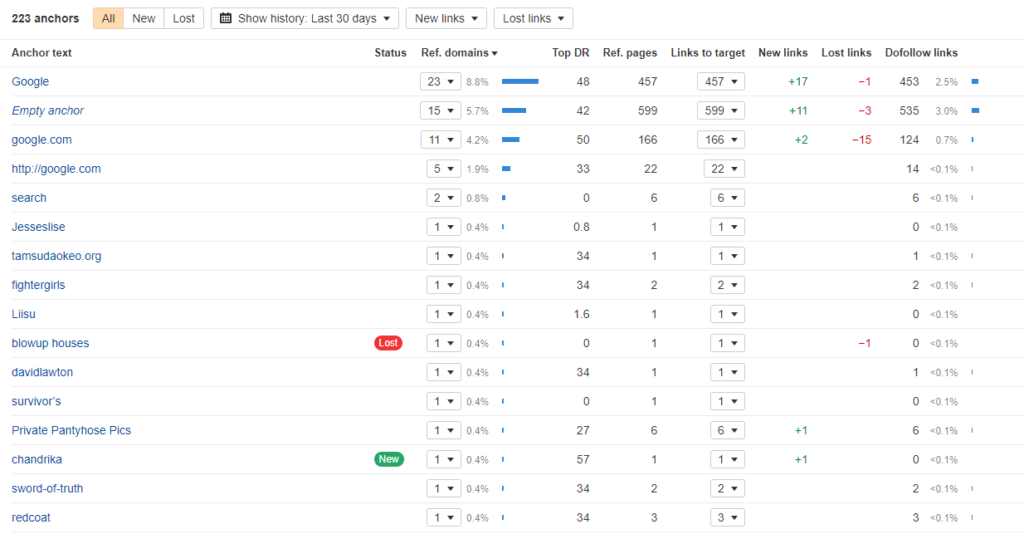 The risk or weak point
Having a brand awareness anchor strategy is great, but in most cases to compete with your competitors you need to plan and implement keyword related anchor strategy. This can potentially help the search engine understand your industry niche and place your website in a better SERP position when someone searches for a specific keyword query.
As a strong recommendation try to contact webmasters and replace spammy anchor text or consider diluting it with wide spectrum keywords anchors.
Keywords Overview (Main)
The keyword audit includes comprising chard of Top positions vs Potential high volume,according to targeted website GEO targeting. Your report will include up to 5 Top GEO Targeting locations, this will depend if your project's local SEO, national SEO, or international SEO. We also have edited the customer preferred keywords and analyzed their position in the current SERP.
Location– Australia
Top Positions vs High Volume SERP

Customer preferred keywords
We are conducting research based on 3 Top keywords from your wishlist.
As an example below we provide keywords analysis for one keyword
"google search"
Global Search volume – 1.8M per month
Australia Serch volume – 633K per month
Key Word competition difficulty – 89 (0 to be super easy – 100 to be extremely difficult to compete)
Current organic search SERP Position – NONE
SEO Content. Mentioning on Customer website – NONE
Our recommendations:
Your website does not include any keywords from your wish list. To win SERP for these keywords would require a high budget and time. Depending on your position we recommend you research less competitive keywords from the same niche. As an example you are already ranking by some related keywords, therefore we offer you to put an effort to improve your on-page SEO and off-page SEO to improve SERP for these positions.
"advanced search google"
Global Search volume – 14K per month
Australia Serch volume – 6.3K per month
Key Word competition difficulty – 38 (0 to be super easy – 100 to be extremely difficult to compete)
Current organic search SERP Position: Australia position 27
SEO Content. Mentioning on Customer website – NONE
SERP Analyse
SERP Top Positions (we considered the next Top SERP position after your Brand Name)
There is a different keyword for particular countries, see snapshot for details
Australia SERP

Recommendations
Currently, your website is ranking in top positions with the keyword "iPhone 11 case card holder" which has a search volume of 100 queries per month. You also ranking for "iphone 11 case with card holder" which has a monthly search volume of 600 queries. We recommend you investigate your On-page and Off-page SEO, as well as do more detailed competitors analyses to see how you can improve positions and gain more visitors with high-ranking keywords.
Top Positions Overview
In most countries, you hold top search positions that include your brand name. This generally can be a result of a good advertising campaign and brand awareness and good practice for white hat SEO.
The risk. The more visitors start understanding your brand niche the more synonym keywords they will search for.
This potentially can lead you will losing traffic due to the reason you are not holding top position by keyword with good search volume. This means your competitors can benefit by winning potential customers who search your product by relevant keywords instead of your brand name.
Possible solution. You need to re-think adverting and semantic strategy to start targeting high search volume keywords market as well as keep SEO leading brand positions.
Top Search Pages
Website is receiving main traffic true two pages
www.websiteexample.com
www.websiteexample.com\blog-post-number-one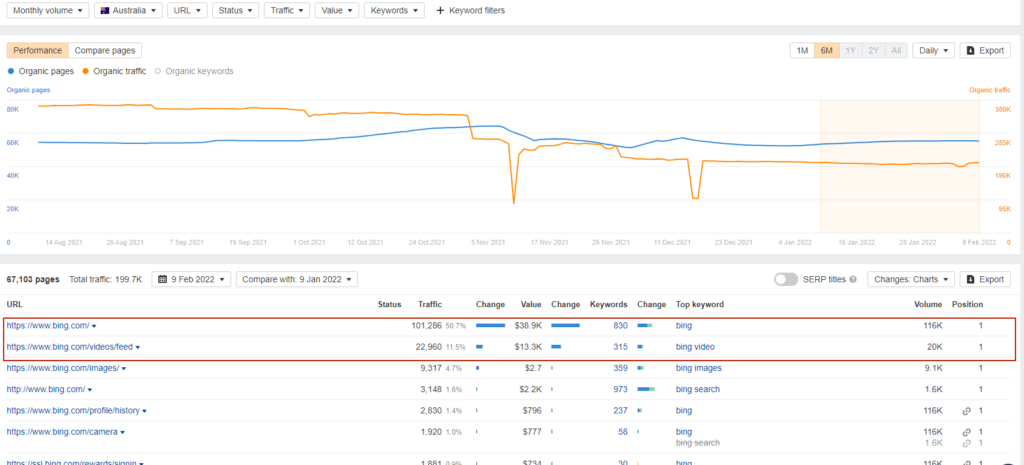 Recommendations
There is a big potential to increase organic pages via F.A.Q. page by adding more education topic-related content and improving on-page search engine optimization.
Competitors overview
We've researched and analyzed 3 main competitors and taken into consideration 1st highest keyword after the brand keyword. As well we did not compare giants such as Google. In this report we will audited SEO competitors proposed by the customer and or discovered by us.
Main Competitors:
instagram.com

imdb.com

wikipedia.org

Your website losing some SEO positions due to a Higher Domain rating and better On-page SEO and/or more quality content.
Recommendations
To try winning leading SERP positions we recommend you to put more research into backlink strategy to increase your Domain Ranking and improve your OnPage SEO
Content Audit and Ideas
Home page content SEO audit result
We have audited your landing page content according to your wish list and recommended keywords. As a result, your on-page SEO text has a low score to be compatible with SERP and organic search results.
SEO Check Result – POOR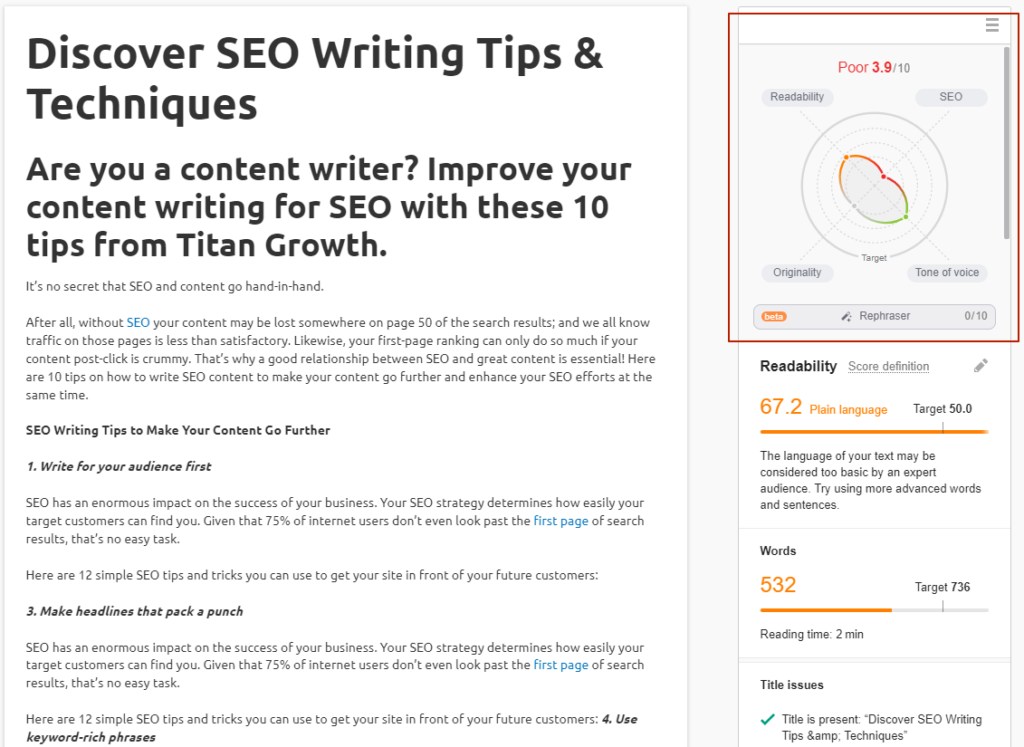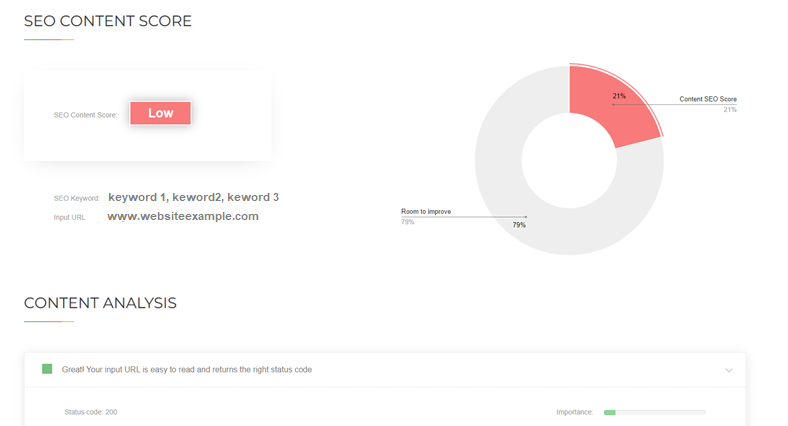 Recommendations
Speak to your copywriting team and advise them to review your landing pages and adjust and improve your current on-page text and content.
A few text ideas for page
You are not using your focus keyword: "targeted keyword 1, targeted keyword 2" in your Title tag
You are not using your focus keyword: "SEO keyword1, SEO keyword2, SEO keyword3" in your Meta description
Your webpage has multiple H1 tags, your page should have one H1 tag
You should write more content for this page. the current text length is 378 words. The min recommender text length is 624 words.
You are not using your focus keyword: "word1, word2, word3" in your image Alt text
You should add your focus as well as a secondary and relative keyword to the content of your page
Integrate more relevant high volume keywords to your landing pages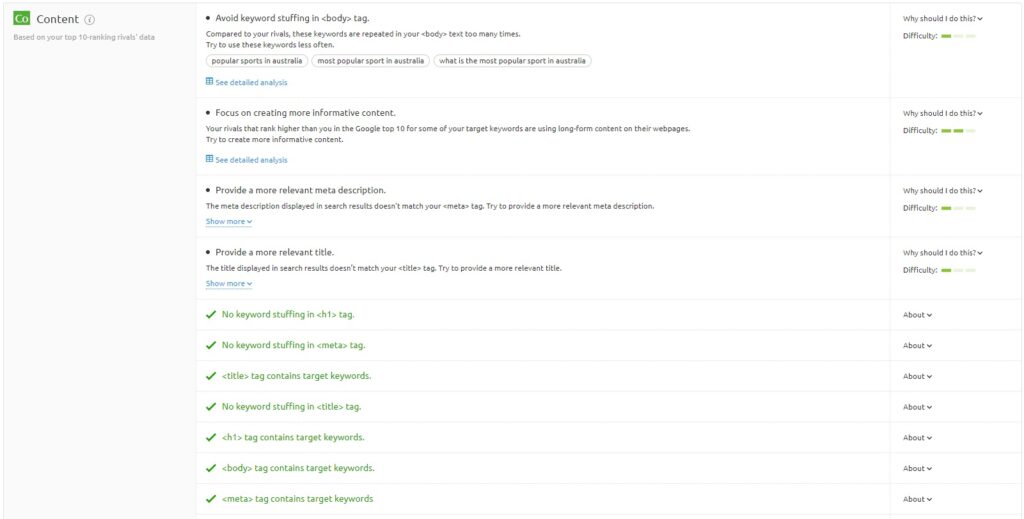 Meta Tags Audit
We conducted the audit for Home Page, as a more valuable source of traffic pages.
Meta Title check
a. Available
<title>Brand: SEO services, copywriting and backlinks for companies</title>
Incorrect format, missing targeted words. Written in too spammy style.
b. Length
Acceptable
c. Fit to keywords matching
Partially, missing some keywords
Meta Description Check
a. Available
<meta name="description" content="Brand supply SEO services for local companies with quality backlinks and on-page and off-page optimization.">
b. Length
Acceptable
c. Fit to keywords matching
Partially, missing some keywords
Meta Headings Check H1
a. Available
Get your Website better SEO Services
b. Fit to keywords matching
Partially, missing some keywords
c. Duplicates
More than one H1 per page – Not Acceptable
Conclusion
Current website performance
We have analyzed the current website performance and conclude it is in good health. However, we think a high potential growth is available with planning and integrated below recommendations and overviews.
Technical recommendations
During the audit, referring to technical audit report files, we have found several urgent matters to attend to and fix.
The highest priorities are:
Website Mobile load speed
Keep in mind that GOOGLE has moved towards a reward website that is more mobile-friendly and gives preference to websites with improved mobile performance. Meaning the better your mobile loading speed and overall adoption, the Hight chance you have to be at the top search positions.
Missing or Empty Descriptions
Missing or empty H1
Multiple or Duplicates H1
Images Atl texts
Domain Rating recommendations
The website Domain authority has a good score. Considering competitor's websites Domain Ratings, we recommend you to aim your future SEO strategy by building a website Authority. Keep in mind that Domain Reputation is an 80% success of SEO campaign.
Consider earning high-quality backlinks with informative articles, infographics as well as press releases.
Backlinks
Important, toxic backlinks – potential Google Penalties
During the backlinks audit, we found one or several potentially toxic domains. We recommend you take a closer look at this backlink source and potentially add those backlinks to disavow Google search list. Google Penguin algorithm can detect spammy backlinks and potentially apply a ban to your website or page. Which can lead you lose leadership or have your SERP decrease
Anchors
Your anchors are very good volume, but not enough to support keywords search queries.
Currently, the significant anchor mass aims to support BRAND, which is a correct and proper practice in most cases. We recommend you plan and increase backlinks with keyword-orientated anchors and add brand anchors to future backlinks. The keyword-related anchors will help you win new, improve and secure current SERP positions.
SEO Keyword
We have found that your website has low quantity keywords integration. The current preferred targeted keywords have a poor presentation or even missing in some cases on your pages. In some cases, it is noticed as spammy use. The same applies to your home page Meta Title. Regarding meta titles, we would recommend you reconsider editing it with a more friendly display, following Google SEO practice.
As an example:
MAIN KEYWORD REPLATED PHRASE | SECONDARY KEYWORD RELATED PHRASE | BRAND NAME, (if title size allowed to add brand name)
Potentially you can improve your SERP positions and traffic volume by introducing high volume niche-related keywords. You can do this on existing pages by introducing new detailed, informative, and educational pages.
On-page Recommendations
Review, rethink, improve and adjust meta-Titles. Follow the Google SEO practice. Keep a similar format to this example
As an example:
MAIN KEYWORD REPLATED PHRASE | SECONDARY KEYWORD RELATED PHRASE | BRAND NAME, (if title size allowed to add brand name)
Tell your SEO manager to distribute semantic keywords for each page. That should include the primary and secondary keywords that you will fit in the title description. In addition, the pages should have other additional topic-related keywords volume to help increase traffic. Finally, check the title length for each page.
Fix all missing, empty long, or too short meta descriptions
Keep only ONE H1 header per page. Distribute rest headers by H1 to H6 where required.
Avoid H1 duplicated on the same or different pages.
SEO On Page Texts
Your website is required more detailed and urgent attention in regards to text. Advise copywriters to add and improve text to get a high SEO check and, therefore, search performance. The text must include relative targeted keywords, be unique, be easily readable with a Neutral to Formal voice of tone.
For example, your home page has about 250word. However, for better SEO you should have at least 677words, to be competitive in keywords SERP for the following keyword:
KEYWORD_ONE
KEYWORD_TWO
KEYWORD_THREE
In addition to the above, we have some other recommendations on how you can potentially win leading positions in SERP for high volume-keywords.
From a list of your competitors outlined in our wedsite in-depth SEO Audit report, we can see they beating you by having an educational or informative content, such as blog posts, articles, and PHF manual.
We recommend you consider creating a website section with similar content.
The other SERP research shows there is also video content above your current SERP positions. Consider creating video content with better and more up-to-date info linking it to your website pages. It can be educational content about "what is" and "how to use" your products. Remember to aim relative keywords ideas targeting for this type of content.
Integrate detailed pages explaining how your app works and the benefit of it.
Reason to increase different value keyword volume.
For example, the Keyword "How to record video" – has a Global volume of 4700 month search request page that will explain how your app helps record a video and its benefits. This is only one example of many available.
Integrate and improve, mark up your aggregate rating such as review snippet Software app
See example here
Brand awareness
As you are receiving significant traffic from Brand keywords, we strongly recommend improving and developing your brand awareness. This can be all sorts of advertisements.
Online advertising
Press releases targeting your brand and founders.
Display adverting is a great way to drive brand awareness to customers and target your visitors back to your website.
The END of The SEO Audit Report
That is about all from us. We understand this is quite a load of information, and you may have many questions. Please do not hesitate to contact us if you need to discuss one or a few paragraphs from this report.
What is next?
Request your tailored Website In-Depth SEO Audit Today and Beat your competitors with bettr performance and SERP Positions
Price SEO Website Audit
Our custom audit report takes up to 14 working days to complete. The time is depends on volume of your project.
The price is only $250 exc. GST/per website
*all prices are GST excluded and will reflect +10% in the invoice