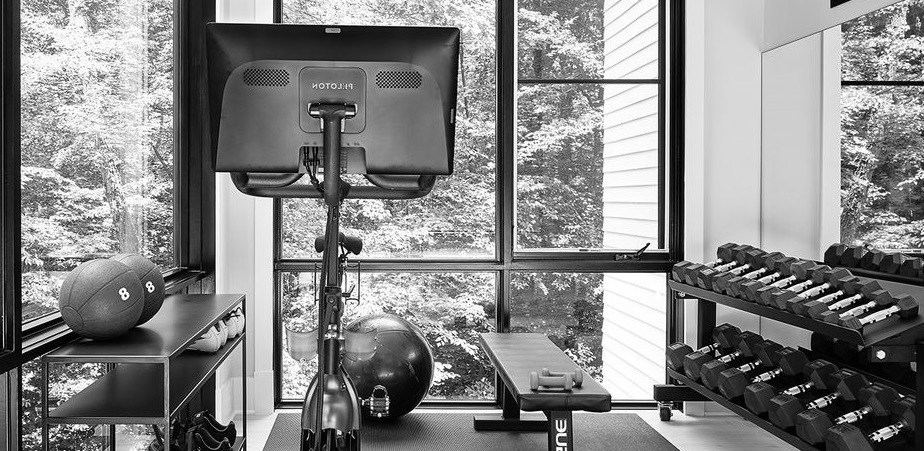 A home gym might be just what you need to find the motivation to exercise. If you don't have a dedicated workout room, that's ok. Even a nook or a part of your garage or basement will do for many types of exercise. Here are a few gym ideas to help you work up a sweat.
Basement Home Gym
Turne a dark basement into a sun-drenched space that both kids and adults can enjoy. The homeowners needed a place where they could get their cardio fix while watching their kids. On the left is the home gym, and on the right is the children's play area.
Home Rock-Climbing Wall
Rock-climbing is perfect for adventurous types and a great way to engage your muscles (it will also be a hit with the kids). You can easily transform a garage with a set of rock-climbing holds.
Small Living Room Gym
While a home gym with a beautiful view can be friendly, you also can turn a windowless space into a fresh and airy workout zone with these ideas. Recessed LED lighting, white shiplap walls, and floor-to-ceiling mirrors keep things feeling bright. Plus, the interlocking foam mats both add a design element and protect the floors.
Home Yoga Studio
A spare bedroom becomes a yoga retreat in your home. A large mirror helps yogis check their form. And the sizable woven rug soothes bare feet. There is plenty of wall storage and a rolling cart for yoga essentials and other gear. Plus, the wallpapered ceiling enhances the room's peaceful vibe.